Our firm has had the pleasure of working alongside of several attorneys since being founded. Among them are the following which we consider our distinguished alumni.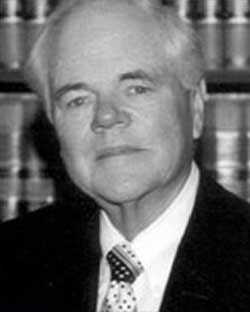 Mr. Anderson has been practicing law for over 50 years. His areas of expertise were banking, municipal law, and estate and business planning, and real estate.
Mr. Anderson was a dedicated veteran, having been awarded the European-African-Middle Eastern Ribbon, two Bronze Stars, the Air Medal, and the Prisoner or War Medal.
Following military service in World War II, Mr. Anderson graduated from the University of Washington Law School after receiving his Bachelors Degree from the University of Washington. After practicing for 10 years by himself he formed a partnership with John Sharp and then, two years later, Gene Bush joined the firm. That firm evolved into Anderson Nelson Hall Smith.
In the State Bar Association, he served as Chairman of the Law and Practice Committee, Chairman of the Resolutions Committee, and many years as a member and Chair of the Hearing Committee for professional malpractice complaints. He also served as a member of the Bar Examination and Grading Committee and twelve years on the Idaho State University Tax Institute Advisory Committee and was a founding member and President of the Eastern Idaho Estate Planning Council.
Civic activities have included local President and State President of the Idaho State Jaycees, President of the Idaho Falls Kiwanis Club, Chairman of the Lincoln Day association, county and district chairman of a political party and a Director for Bonneville County Red Cross and Bonneville County Sportsmen's Association.
Mr. Anderson was born on October 4, 1923 in Hansen, Idaho. He passed away on July 29, 2002, He was married to the former Beatrice (Trixie) Farr of Idaho Falls. They are the parents of three daughters. He enjoyed golf, gardening, and fishing.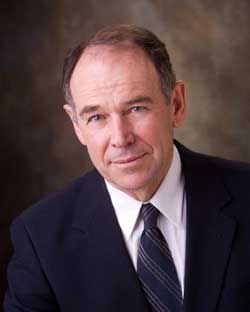 Mr. Meacham obtained his law degree from University of Idaho where he was Comments Editor of the Idaho Law Review. Prior to law school, he obtained degrees from Treasure Valley Community College, Utah State University, magna cum laude, and University of California: Davis. He is licensed in Idaho and Utah state and federal courts.
Mr. Meacham has experience in a wide variety of legal matters. He has provided representation on real estate transactions spanning Eastern Idaho from Malad on the south to Island Park on the north, from Burley and Mackay on the west to Driggs on the east. His transactions have involved farms and ranch properties as well as commercial properties and fine homes. He has represented farmers and equipment manufacturers as well as recreational product companies and lenders.
Mr. Meacham has significant experience litigating complex civil matters, including personal injury, property and boundary issues, purchase and sale agreements, contracts of all sorts, employee and employment disputes, non-compete and non-disclosure cases, trucking and transportation issues, collections, and estates. Additionally, Mr. Meacham has long been regarded as one of Idaho's finest estate planning and estate administration attorneys.
Mr. Meacham's wife, Margaret, teaches early childhood special education. They care for their home and garden in Idaho Falls, and look forward to visiting grandchildren located from California to Pennsylvania.